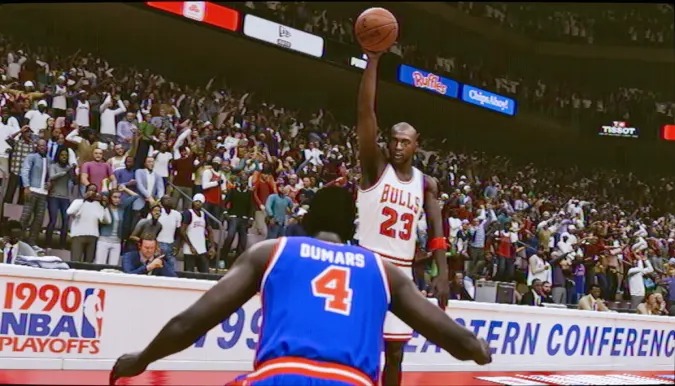 2K Sports revives the Jordan Challenge mode from NBA 2K11 with 15 key moments from the legend's career. Spoiler alert, it includes Jordan's "Flu Game," the 1982 NCAA National Championship, and the 1998 NBA Finals winning shot.
Visual Concepts VP of NBA development Erick Boenisch says, "Our team took everything into consideration when constructing this game mode; the arenas, the players, the uniforms, the broadcast, and the play style of the era have been accounted for in an effort to give fans a truly authentic and unique playable Jordan experience."
The developer made sure players will be immersed in on-screen graphics accurate to the 80s and 90s aesthetic, down to how fans watched the games on TV. Visual Concepts even matched the gameplay to transitions commonly used in the 80s and gave more emphasis to post and mid-range games.
Each challenge gets a pre-game interview with icons present during the moment, like Dennis Rodman, Kareem Abdul-Jabbar, and Phil Jackson. The publisher even brought in analyst Mike Fratello and former Chicago Bulls announcer Ray Clay for commentary and introductions. Naturally, The Alan Parsons Project's "Sirius" is part of the soundtrack.
2K Sports made the Jordan Challenge mode accessible on all NBA 2K23 versions coming out on September 9th.
Head on to the NBA 2K website now to secure yours.